In late September, I watched a presidential debate in which two men stood in front of a moderator and brazenly yelled at each other on national television for a couple hours. The lack of civility clearly came more from one side of the stage than the other, but it was still hard to watch the night unfold and not think one thing: This can't be what actual leadership looks like. It just…nah. It can't be.
I thought a lot about the concept of leadership over the next week or so. You can't really teach it. There's no "AP Leadership" in high school, and any "Leadership 101"-type college courses are focused more on famous leaders throughout history than learning to be the best leader you can be. I know you can become a better leader—there's a hundred-million-dollar category of the book industry to prove it—but there's an innateness to leadership, like you're either someone who's naturally interested in bringing people together and uplifting the people around you or you aren't. Maybe that's a little too rigid of a way to look at it; there's clearly some gray area here. But I wasn't sure.
So I decided I'd ask someone who would know.
Fast-forward two weeks to a blazing-hot Tuesday in Los Angeles. I'm sitting in an airy photo studio when Chris Paul walks in to take some photos for the cover of this magazine. He cycles through a few looks curated for him by his stylist Courtney Mays, then sits down to talk about the past year. Obviously the first thing I ask about is leadership—is it innate or taught? Nature or nurture? Born with or learned?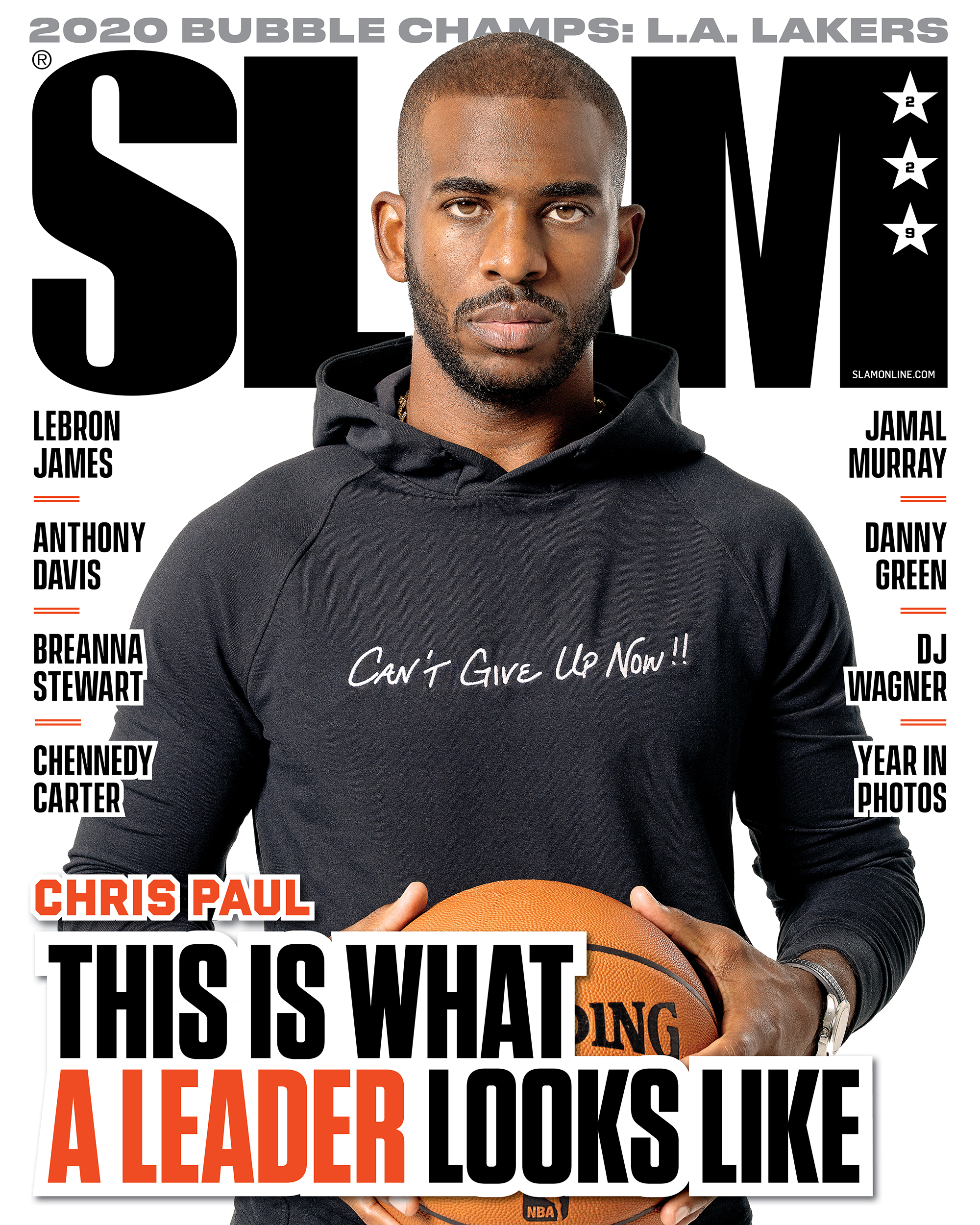 ORDER YOUR COPY OF SLAM 229
"I think there's a combination of both," he says. "I say the best teacher is experience. I don't know if it's fortunately or unfortunately, but I've been in a lot of crazy situations."
Let me pause Chris right there to zoom into that fact. Not only has Chris been in a lot of crazy situations—he's basically the Forest Gump of the post-2005 NBA. It's also the first thing his brother CJ says when asked about the evolution of Chris' personality over the course of his playing career. "It's nothing that he hasn't already seen at this point in the NBA," CJ says.
THE HOODIES CHRIS PAUL IS WEARING IN THESE PHOTOS ARE AVAILABLE NOW AT SLAMGOODS.COM. A PORTION OF THE PROCEEDS ARE GOING TO THE CHRIS PAUL FAMILY FOUNDATION.
To run through it quickly: Chris is drafted to New Orleans, but spends huge portions of his first and second seasons playing home games in Oklahoma City because of devastation caused by Hurricane Katrina. Then he becomes an All-Star, becomes friends with local NOLA hero Lil Wayne, becomes the best point guard in the League and makes the playoffs a few times. Then he's traded to the Lakers, immediately un-traded from the Lakers when David Stern vetoes the trade on behalf of non-existent Hornets ownership, then is traded to the Clippers where he forms Lob City with Blake Griffin and DeAndre Jordan. The Clippers become a perennial playoff team, Chris becomes president of the National Basketball Players Association (NBPA) and signs a fat contract to stay in L.A. for a while. But drama follows—tapes of Donald Sterling saying horribly racist things are leaked to TMZ, and CP, Griffin and Doc Rivers lead the team through what would eventually be a lifetime ban of the franchise's now-former owner. Eventually Chris is traded to Houston, where he plays alongside James Harden, and two seasons later he's traded to Oklahoma City in exchange for Russell Westbrook, landing back in the city he spent so much time in as a rookie.
And all of that was before this past year. On March 11, Chris was getting ready for a home game against the Utah Jazz when it was announced that opposing center Rudy Gobert had tested positive for Covid-19, leading to the shutdown of all sports and a permanent reference point for the beginning of the national quarantine. As president of the PA, Chris was essential in establishing and setting up the Orlando bubble, where regular season play began in mid-August. On August 26, following the sickening news (and video) of the police shooting of Wisconsin resident Jacob Blake, the Milwaukee Bucks stayed in the locker room and didn't play, which led to the entire world turning on the news to see what would happen next. And what happened next, at least on our television screens, was a video of Chris Paul and Russell Westbrook—who were supposed to star in the Thunder-Rockets game later that day—walking down a hallway after deciding that their teams wouldn't be playing, either. Chris set up a meeting for all players in the bubble to talk about the situation (more on that later), and days later play did return, and the bubble wound up being a massive success—there were zero Covid cases with the exception of a couple of players who arrived with it, the actual gameplay was amazing, important social justice messages were promoted, and, according to Chris, the players learned that as a group they're way stronger when they're together and unified than when they aren't (more on that later, too).
So if experience is the best teacher, Chris has a head start, at least in terms of NBA happenings. His history of leadership goes back before his time hooping professionally, though.
Before Chris really saw a future in basketball, he played football and gravitated to middle linebacker—the leader of the defense. In the 10-and-under Pop Warner leagues he'd play quarterback, too—though as he got older he played receiver. But he was also the back-up quarterback, not even because of his passing skill so much as his natural ability to lead a group.
In seventh and eight grade, Chris was class president at school. He didn't do it as a freshman, then picked it back up as a sophomore and held onto the role as a junior and senior. In 11th grade he was in charge of planning the junior prom, which fell on the same day as his AAU state championship game. He had to wake up at the crack of dawn to set everything up for prom at the convention center, then head to Charlotte to play (and win), then hustle back to Lewisville, NC, to pick up his prom date a few minutes late and book it to the party.
"But it seems like that," he says, referencing his tendency to take on tons of responsibilities and deal with 'em one by one, "has sort of been the story of my life."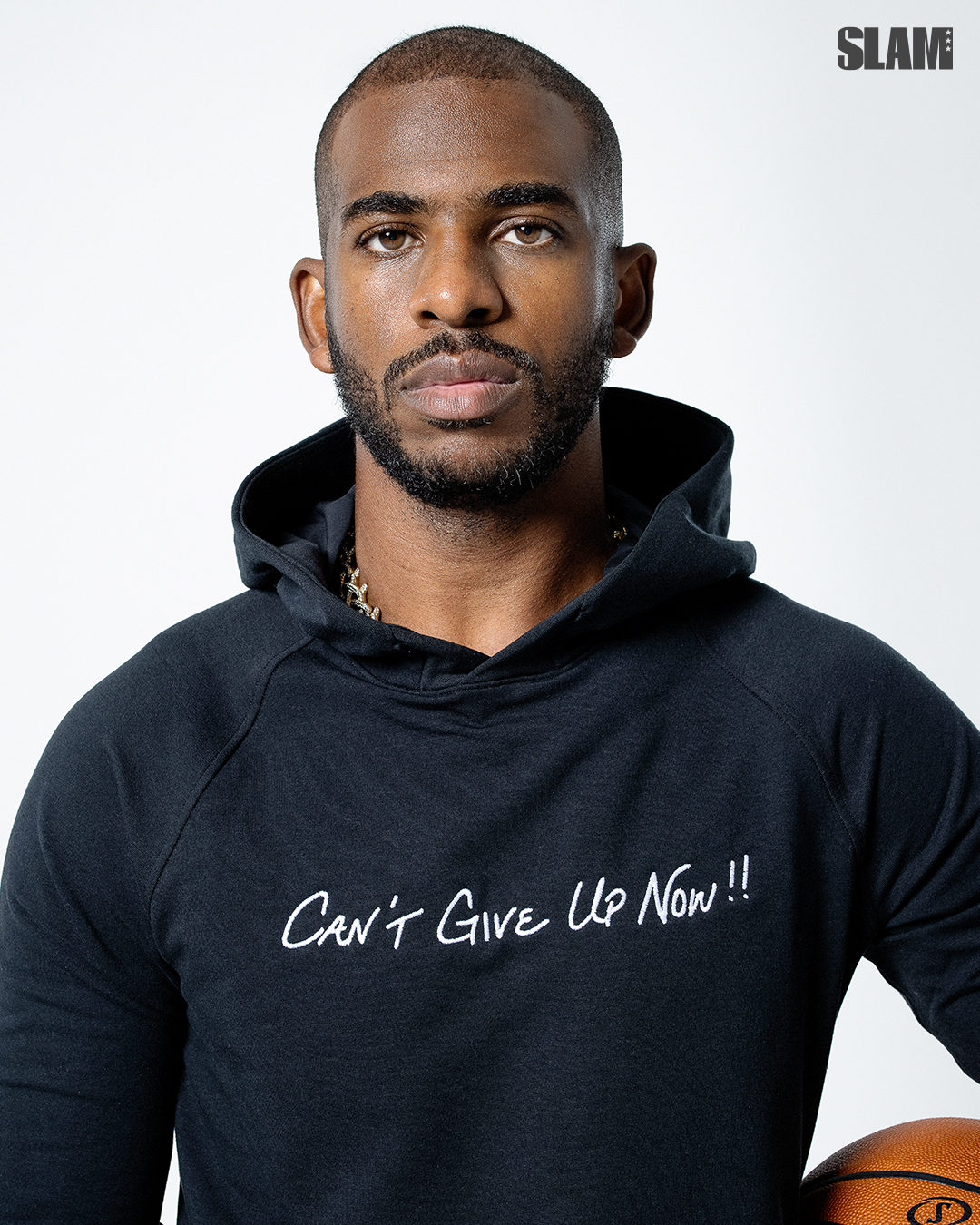 After the NBA sent everyone home in mid-March, the NBA and NBPA together transitioned into "what do we do next?" mode. Chris was ready for the moment. He describes the process as a series of Zooms and phone calls, starting with a small group and gaining more and more consensus from a wider group as the bubble was becoming a reality. He credits good communication as integral to that exercise.
"I almost try to overcommunicate," he says. "Communicating is something that I felt like we always can continue to get better at. Make sure everybody at least knows what's going on, making sure that there's an unbelievable team around to execute all of it. That's the thing that I had to learn, and I'm still getting better at: You have to be able to delegate."
"The most challenging [thing] was dealing with real-life issues," he adds. "There's a lot of people out there who were concerned with, Are the games gonna happen? Is basketball gonna be played? But all the players, the conversations that we were having was about real life and the social injustices that were taking place and leaving our families and the health risk because of Covid. I think that was the toughest part. Yeah, everybody wanted to hoop, but everybody's mental health and physical health and family came first."
The bubble got started mostly seamlessly—there were a couple of reported Covid cases when everyone descended upon Orlando, but after a mandatory quarantine time, zero players tested positive during the entirety of the remainder of the season. And then games started, and even without fans in the arena the action was truly entertaining—whether it was less travel helping with rest, the consistency of the court they played on helping with shooting percentages, or just general competitiveness built up from the time off, the players really went at it and the result was high-level gameplay.
But it was all happening very fast. Once games started, the schedule had teams playing basically every two days, and a lot of the motivation of the bubble in the first place—to bring players together so groups could more easily get together and plan social justice initiatives—weren't happening as much as some would've wanted. "Guys are down there competing every day," Chris says, "and real life is happening outside. So when the Jacob Blake situation happened, guys didn't have the opportunity to really process it. So that gave us a chance to stop, like, Everybody stop. Let's get in here and talk."
After the Bucks decided they weren't coming out of the locker room to play on August 26 and following the rest of the teams' decision to do the same, Chris once again had to figure out next steps. One of his first calls was to NBA EVP of Events Kelly Flatow. "Kelly, we need a ballroom," he told her. "We can do the chairs with social distance, whatever we need to do. But we need to talk."
That meeting has been reported on many times by now, but it was an undoubtedly heated exchange. Coaches were present for the beginning, and then they left and it was just players—all the players in the bubble at the time. "The amount of quote-unquote star power that was in that room," Chris says, "and actually in the beginning of that meeting it was coaches and players—that's never happened. Ever ever happened."
The group met again the following day, and by now we all know what happened next—the players did indeed stay, deciding to formulate a plan to address racial injustice issues (putting their support behind the George Floyd Justice in Policing Act) and demanding more from team owners regarding using NBA arenas as voter registration and voting hubs. "It was needed," he says. "Without those meetings, I don't think any more games would have been played. That gave us a chance to stop, like everybody stop, let's get in here and talk. How are you feeling emotionally? Like, what are you feeling? And we got a chance to do that, and sort of do a reset, and to talk to the other governors about how we felt they could help support us and what some of our goals and our missions were."
The bubble finished off successfully. The players spread important social justice messages everywhere they could—in commercials, on the backs of jerseys, on the court, and more. Plus, the fact that it was able to happen at all meant the players were able to provide for their families and loved ones. And as for Chris, he showed that at 35 years old he's very much still got it, too. He led the Thunder, who most discounted would never make the playoffs in the first place, to a seven-game battle with the Houston Rockets. He averaged 21.3 ppg, 7.4 rpg and 5.3 apg during the series.
I asked Chris what he thinks will be the legacy of the bubble. "I think it will be something that future players will always draw back to, like, I don't want to say defining moment, but, like, an awakening for players in understanding how powerful our voice is and how important it is to communicate with one another," he says. "Just because we compete so hard against each other on the court doesn't mean we have to compete like that against each other off the court. There are a lot more like-minded guys in our league than not. The ability to collaborate and partner and do things together, it will change a generation."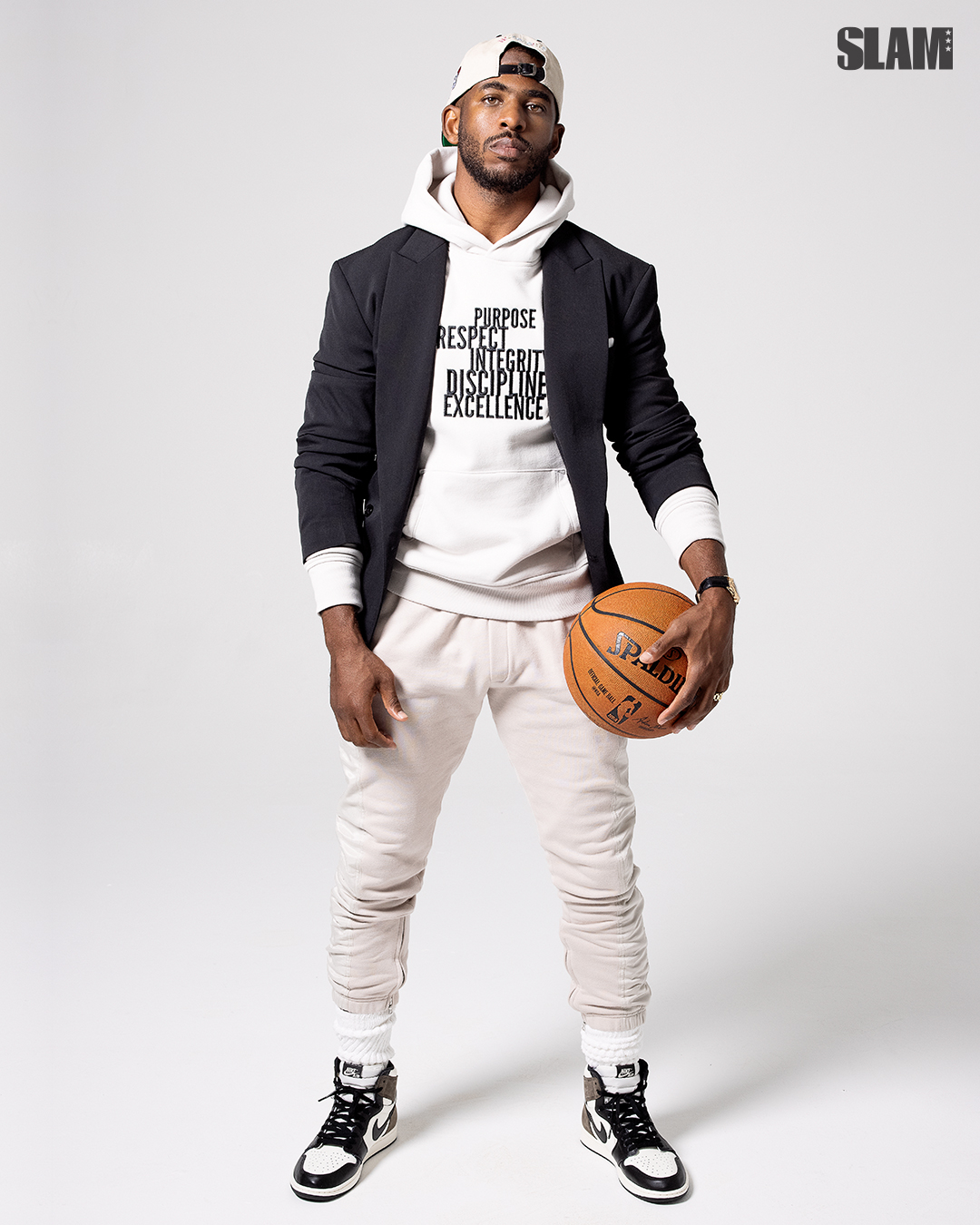 Which brings us back to the idea of leadership. It can't be easy to lead a room with a couple hundred NBA players in it, all of whom have their own strong thoughts regarding the best move for the group. On this, Chris preaches being definitive. He specifically says he refuses to sugarcoat decisions, and he won't go to a player and say something is only happening because other people are pushing for it to happen; he's willing to have tough conversations and say something is better for the group as a whole and it's what needs to be done.
It'd be unfair to say Chris has a 100 percent approval rating across the League—DeMarcus Cousins has said repeatedly that he's not a fan, and former teammate James Harden and Chris didn't exactly see eye to eye before CP was traded to OKC in 2019. Still, his approval rating amongst a group of 400-plus millionaires—all of whom have well-deserved egos that come with being one of the 450 best basketball players on the planet—is off-the-charts high. Like, frankly, it doesn't really make sense. It'd be almost too easy for Chris Paul to just hang out, enjoy being a basketball-playing rich guy who has a great job and a couple of iconic sponsorship deals. (Like it or not, Cliff Paul is gonna be remembered for a long time.) But instead, Chris is so consistently getting shit done that even during the two hours that we're with him, he gets a text from one of the NBPA executives that he says he'll "need to handle" later that day.
CJ Paul says Chris' motivation for all of the off-court work comes in wanting to make sure the future is set up properly for those who follow in his footsteps. "I think just leaving something for the next generation of guys coming up [is his motivation]," CJ says. "As he's been in the League, the pay has gone up—everything else has elevated. And I think he just wants that to keep happening for generations and generations and generations. What we don't want to do is take a step back."
And for Chris, none of this will stop anytime soon. At 35, he's currently the only active NBA player from the 2005 draft lottery—and one of only a few still active from that draft altogether—but Chris says he has no plans to call it quits in the near future. He remains President of the PA, and who knows what challenges that'll bring next. (For starters, there's the 2020-21 season, which as of this writing is still totally up in the air in terms of timing.) Plus, he's technically still class president—the senior-year class president is class president forever. Which is why in 2013, as a then-six-time NBA All-Star, Chris planned the West Forsyth High School Class of 2003 10-year reunion. "A guy as busy as him could just be like, Hey guys, I don't have the time, y'all take it," CJ says. "But he actually took the time to plan it out. Finding a DJ, all that."
At the cover shoot, I ask Chris if he's going to plan the 20-year reunion in 2023, too. "Yeah," he says, chuckling a little. Kinda sarcastic, as if he's trying to imply that maybe he won't. But we both know that he's going to do it.
—
Portraits by Atiba Jefferson. Buy your copy of SLAM 229 here.
1